Decent Work and Economic Growth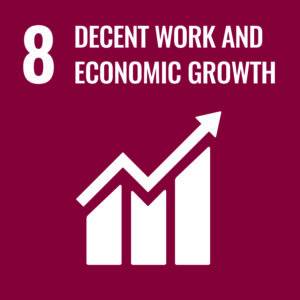 Having a job does not guarantee the ability to get out of the grip of poverty. A persistent lack of decent job opportunities, inadequate investment and low consumption lead to the erosion of the fundamental social contract on which a democratic society is based: All progress must be shared.
Placing job creation at the center of economic policy-making and development plans will not only result in decent job opportunities but also stronger, inclusive and poverty-reducing growth. This is a positive circle for both the economy and society and encourages sustainable development.
To keep pace with the growth of the worldwide working age population of around 40 million per year, it is estimated that more than 600 million new jobs will need to be created by 2030. The condition of about 780 million female and male workers earning less than two dollars a day and not working adequate to lift themselves and their families out of poverty, also needs to be improved.
At the international level, Indonesia has made a very strong commitment to realizing decent work and plays an important role in ensuring that employment and labor issues are included in the Sustainable Development Goals (SDGs).
The importance of decent work in achieving sustainable development is highlighted by Goal 8 which aims to "promote inclusive and sustainable economic growth, productive employment opportunities and decent work for all".
The Government of Indonesia will integrate the SDGs into the Medium Term Development Plan (RPJM) with the National Development Planning Agency (Bappenas) as the coordinating body for the cross-sectoral implementation of the SDGs.