Peace, Justice and Strong Institutions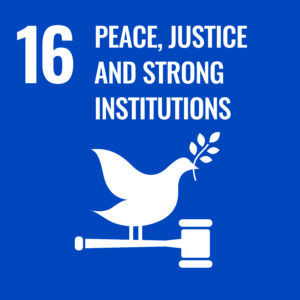 Peace, stability, human rights and effective governance based on the rule of law are important pathways to sustainable development. We live in an increasingly divided world. Some regions enjoy continued peace, security and prosperity, while other regions appear to be constantly in a cycle of conflict and violence. This condition is unavoidable and must be known.
High levels of armed violence and insecurity have a detrimental impact on a country's development, affect economic growth, and often lead to resentment among communities that can last for generations. Sexual violence, crime, exploitation and torture also often occur in conditions of conflict or where there are no laws governing it, and states must take action to protect those at risk.
The SDGs seek to significantly reduce all forms of violence, and work with governments and communities to find long-term solutions to conflict and insecurity. Strengthening the rule of law and promoting human rights are key to this process, as well as reducing illegal arms trafficking and strengthening developing countries' participation in global institutions and governance.
Promoting peace and justice is one of the 17 Global Goals set out in the 2030 Agenda for Sustainable Development. And an integrated approach is critical to progress across all of the goals.