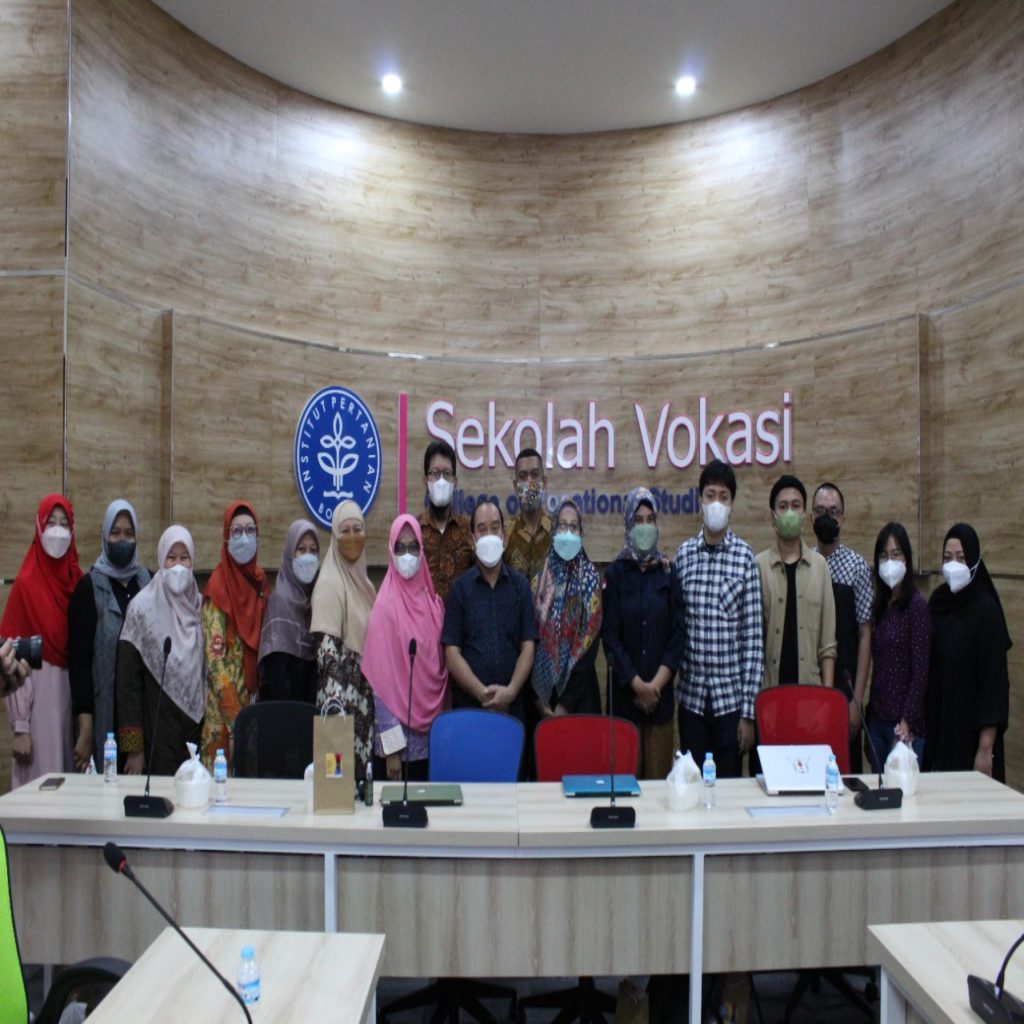 In the context of developing an industry-based applied undergraduate program carried out by the Informatics Management Study Program of the College of Vocational Studies IPB University, the Informatics EXPO was successfully held at the Delta Building, Vocational School at the end of 2021. Informatics Expo is an event held by inviting industrial partners, government institutions, and vocational schools in Bogor and Sukabumi. The event was opened by the Deputy Dean for Resources, Finance and Development, Dr.Ir. Wawan Oktariza, M.Si, and also attended by the Deputy Dean for Academic and Student Affairs, Dr.Ir. Bagus Priyo Purwanto, M.Agr and Chairman of the Teaching Factory Commission, Dudi Firmansyah, S.Pt., M.Sc.
Informatics EXPO aims to disseminate the work of Informatics Management Study Program students, which have been successfully created in a collaborative manner with various related partners, both from industry and from the Ministry of Agriculture as well as the Cooperatives and SMEs Service. In this activity, a Focus Group Discussion (FGD) was also held between students and industrial partners, to get input and evaluation related to the students' products.
The resulting product is an implementation of PJBL (Project Based Learning) and IBL (Industrial Based Learning) from several courses such as Software Engineering, Web-Based Application Development, Multimedia Technology, Databases, and Object-Based Programming. In addition, in the process of completing this project assignment, INF students were also provided with supplies from industry and experts such as from XL Axiata, Algorithm Data Science Education Center, PT PIN, Suitmedia, Tujusemesta, Arsanesia and others through the Digital Product Innovation Bootcamp which was held September 4- 27 November 2021. Students' work deserves the highest appreciation to continue to foster the spirit of creativity and innovation.
The Head of the Informatics Management Study Program, Sofiyanti Indriasari, M.Kom., feels very proud of the good collaborative results in implementing this PJBL and IBL. According to him, students not only learn technical hard skills but also work hard to hone soft skills with their success in producing real works. Thank you to the lecturers and industry partners who have guided students in their work. Hopefully this series of activities will provide valuable experience to add to student portfolios and produce useful industry-based products.
One of the student representatives of the Informatics Management Study Program of the College of Vocational Studies IPB University, Fauzan Adzim expressed his appreciation to the experts from Suitmedia who had provided very useful material and input at the event for students. Exhibitions and announcements of the best student works made the Informatics Expo even more memorable. According to him, the Informatics Expo event went smoothly, he hopes that the event can be held every year and become a forum for appreciation and increasing the existence and achievements of the Informatics Management Study Program of the College of Vocational Studies IPB University.(WB)
=========================
Commission on Public Relations, Social Media and Alumni Relations
College of Vocational Studies IPB University
Telp: 0251-8376845
WA : 081313421127
Email: humas-sv@apps.ipb.ac.id
Twitter : @vokasiipb
IG : @sekolahvokasiipb