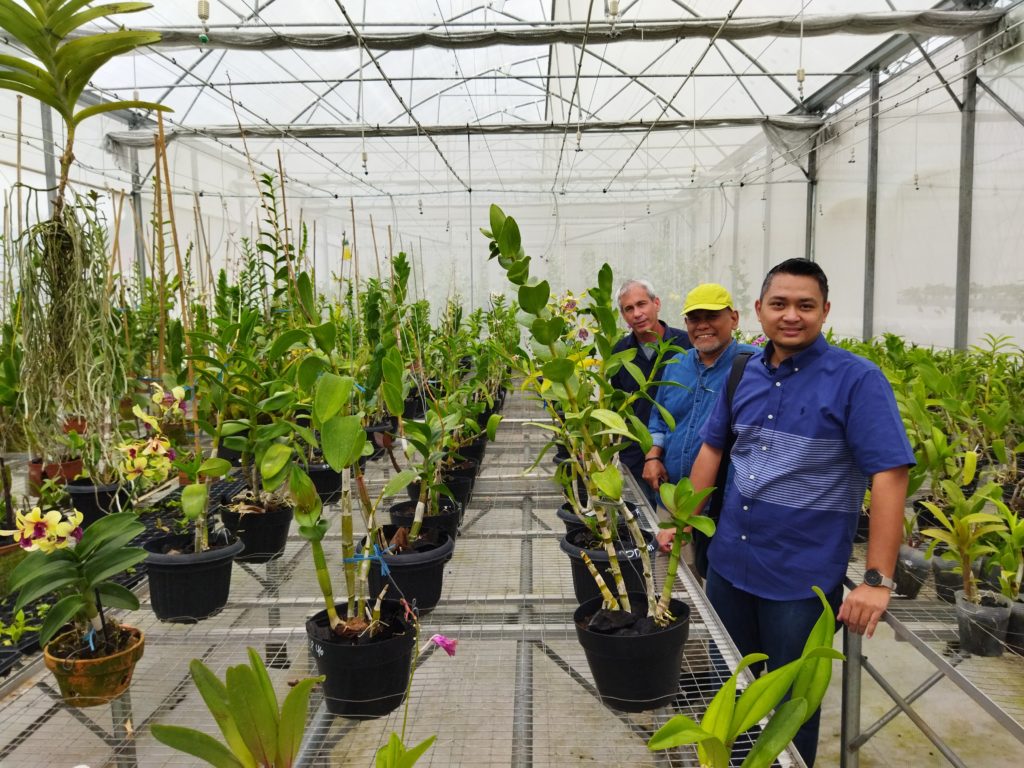 Bogor — As a global company that specializes in greenhouses and smart precision irrigation systems, Netafim Indonesia collaborated with College of Vocational Studies IPB University (SV IPB) to showcase the latest Greenhouse technology and Systemized Precision Irrigation.
In food security, greenhouse facilities are growing in Indonesia. From several studies, agricultural yields from greenhouses are up to 8-10 times higher than those in the open field. Farmers can also plant all year round so that fresh vegetables or food are available in the local market. But on the other hand, agricultural inputs such as water and fertilizer can be reduced by up to 40%. Therefore, with the existence of a greenhouse,  more sustainable farming methods and food security and greenhouses can bring a bright future.
To be able to produce agricultural products, it is necessary to support precise facilities that can be controlled by soil media, water quality, and even the proportion of fertilizers. This is where the role of the greenhouse is very strategic. But in building a greenhouse, it is not only a place to protect from rain and insects. But the components for plant growth also need special attention. "So it's not just the form of a greenhouse, but also the criteria for components of a greenhouse, such as the type of plastic, technology for plant growth and so on," explained the owner of PT Jayasakti Sukses Mandiri who is a distributor of Netafim Indonesia, Ir. Agoes Wijaya.
Agus, who is also an engineer, admitted that he was sad because most of the Indonesian Greenhouses imitated the greenhouses of four seasons countries, which did not match the tropical atmosphere of Indonesia. "If you want to make a room like Greenhouae, for certain conditions you need a systematic and integrated process of temperature and humidity control," he said. Agus emphasized that a good greenhouse is able to control the climate and allow plants to grow faster, more efficiently, sustainably in almost every condition. "Starting from an innovative heating system, temperature management and CO2 control, cooling systems with fogging, cooling pads, screens and others," he added.
In order to showcase the latest Greenhouse technology and precision irrigation technology, Netafim Indonesia also collaborated with College of Vocational Studies IPB University on the Greenhouse Project in the Teaching Farming area of ​​SV IPB on the Cilebende Campus, Bogor. 
Vice Dean of College of Vocational Studies IPB University, Dr. Wawan Oktariza said that his party welcomed the greenhouse technology which was growing rapidly. "Agribusiness in the world is currently developing, one of which is the use of greenhouses," he added. SV IPB itself, admitted Wawan was building two greenhouses at College of Vocational Studies IPB University in Bogor and Sukabumi as part of the teaching farm for SV IPB students. "With support from Netafim Indonesia like this, the insights of SV IPB students can be opened about the latest and ideal Greenhouse technology for plant growth," he added. Wawan also hopes that SV IPB students can experience and learn directly in this greenhouse teaching farm. So that later SV IPB graduates can become experts in agricultural greenhouse technicians in Indonesia which will continue to grow. 
Miniature Modern Farm
Cooperation with IPB University, admitted by Commercial Manager, Alghienka Defaosandi, is not something that is new to Netafim Indonesia. "IPB as the best Agricultural University has a clear vision and mission of Agriculture 4.0. Netafim Indonesia as a provider of sustainable and precise agriculture for agriculture, also has the same goal," he said.
On the Teaching Farm owned by the College of Vocational Studies IPB University, Netafim Indonesia made a miniature of the best greenhouse system in Indonesia. "We collaborate with IPB to provide opportunities for College of Vocational Studies IPB University students so that they are not surprised to enter the (modern) agricultural industry with all automated greenhouse equipment," he explained.
Acknowledgedly, providing trained human resources in the industry  Modern agriculture, especially automated greenhouses, is a challenge in itself. "We give students the opportunity to learn about all modern greenhouse systems," he added. 
In addition to IPB University, Alghienka admitted that Netafim Indonesia continues to introduce sustainable agricultural systems. His party continues to introduce it to corporations, universities and related policy makers, including Bank Indonesia (BI).
BI representatives in West Java and Yogyakarta are parties that have been given socialization and in the near future it is planned to visit BI Representatives in South Sumatra and Lampung.
Reporter : Nattasya
Source : Netafim Indonesia